Pastor Taiwo @ Sunday Service
In continuation of the message he started the previous Thursday, Pastor Taiwo told the congregation at the December 18 Sunday service that the Christian race is a call to warfare. "This fight is a unique one because our weapons are not physical or sensual but Mighty through God," he said.
Speaking from 2 Corinthians 10:3-6, Pastor Taiwo said that no believer is expected to chicken out of this fight because that could be disastrous. He stated that it is a fight of faith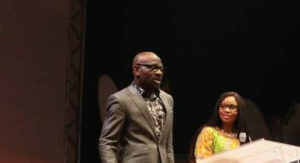 which births maturity and growth as one continues in the journey of life. "Even though you have been sent as a lamb into the midst of wolves, your nature is that of the Lion of the Tribe of Judah. This understanding will help you in the fight," he stated.
He emphasised that the Word of God and His Spirit are the most important tools to engage in this warfare for victory. He therefore urged every believer from Hebrews 4:12 to always make use of their weapons so as to win the spiritual battles in life. "When you confront your challenges with the Word of God, you will definitely win," he said.
Pastor Taiwo's full messages are available on CDs and DVDs at The Fountain of Life Church Tape Shop
WHEN IT IS GOD
Pastor Taiwo @ Thursday Showers
Every child of God has been well-equipped for the battles of life but the understanding of this truth is vital for victory. When a child of God is ignorant of this truth however, it makes it easy for the enemy to take advantage of him or her. Pastor Taiwo stated this at the December 15 Thursday Showers service. "When you are conscious of the power of God in you, you will always be victorious in life's many battles," he said.
Speaking from 2 Corinthians 10:3-6 and Psalm 16:5-8, he said that the reason many Christians do not realise they have been equipped is because their weapons are not physical, hence they do not make use of them. "You are an overcomer, but you must know that you have these weapons and use them appropriately to win every battle. If you don't know you have them, you won't use them," he stated.
He enjoined everyone to have the right attitude to life, especially as a new year is approaching. "We don't fight like the world because we have tools they don't have. So know your weapons and use them, then you will have victory," he said.
WORDS OF ENCOURAGEMENT FROM PASTOR NOMTHI
Pastor Nomthi at the December 15 Thursday Showers service said that when God performs a miracle in the lives of His children or answers their prayers, it is to reveal His glory just as He did on Mount Carmel in 1 Kings 18:36-40. "When the Lord steps into your affairs, He will definitely show His glory in you so that the world will know that He is God," she said.
According to Pastor Nomthi, whenever believers call on Him in truth, He always answers them. She therefore enjoined all never to be afraid of their situation or be discouraged that their issue appears not to have a solution but to rather speak to it because God will answer and show forth His glory. "Our God is the God that answers by fire. So don't be afraid of your situation, just speak to it," she stated.
PASTOR NOMTHI @ SUNDAY SERVICE
Pastor Nomthi has said that every child of God is complete in Him regardless of circumstances, status, background and challenges. She said this at the December 18 Sunday service while dwelling on the promise for the week in Colossians 2:10. "You are complete in every way in Christ Jesus, and nothing can reduce that fact," she stated.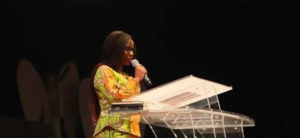 According to her, nothing should discourage believers or make them lose the consciousness of their identity in God. The negative ideas and words of the devil, she said, should not be allowed to grow in their lives; rather, they should know and believe what God has said about them and boldly go to Him for whatever request or anything bothering them. "Jesus can deal with anything that comes against you, so know who you are in Christ and go boldly to God because you are complete in Him," she said.