Pastor Taiwo @Sunday Service    
Dwelling on Revelation 3:7&8 at the March Sunday service, Pastor Taiwo said that, no matter how much effort one puts into achieving it, increase does not come unless God gives it. According to him, one's strength is not always sufficient for one's desired blessings, but God often supports such, especially when he or she is a believer. "When you understand that the blessings you have are not a result of your efforts, you become humble and this will make you achieve more," he said.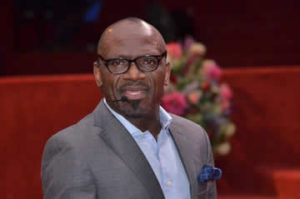 He noted that the secret to greatness is depending on God. This, according to him, does not amount to laziness on the side of the believer as God Himself hates laziness, but He rewards labour no matter how little it is. "You have to sow your seed to get a harvest, but when you depend on God as you sow the seeds, the harvest will be far more than what you would reap naturally. That's supernatural harvest," he stated.
From Genesis 8:22, John 3:16 and Mark 4:26-27, he gave the biblical principles of supernatural harvest as sowing. And man, he said, does not need to know or bother himself as to how the seeds grow; all he needs to do is focus on sowing the seeds and leave the growth to God.
He urged everyone to mind what kind of seeds they sow because they would grow, whether or not they were planted deliberately. "It is one principle of life that God will always honour, irrespective of who is sowing. So be mindful of what you sow and live deliberately because there will always be a harvest," he said.
Pastor Taiwo's full messages are available on CDs and DVDs at The Fountain of Life Church Tape Shop.
YOUR SEED WILL YIELD SUPERNATURAL HARVEST
Pastor Taiwo @Thursday Showers
It is a disservice for a Christian to doubt God when he or she comes to His presence. These were the words of Pastor Taiwo at the March 2 Thursday Showers service. God, according to him, has opened the door for His children and no one can shut it; but that reality is only to the extent that His children believe. "God likes to be believed; it will be a wonderful year for you when you take Him at His word," he said.
Speaking from Revelation 3:7-10 and Psalm 126:1-6, he said that every desire, step and struggle to please and trust God is a tearful seed which will definitely yield a bountiful harvest. This is because God's ways are widely different from man's ways and He sees man's motives for taking any step. God, he said, will surely reward every right motive with miracles. "When that happens, even the heathen will be impressed and sing the praises of God on your behalf," he stated.
He therefore urged them not be lukewarm just because they have the promise of God, as the devil will contend for it. However, their faith and positive confession will give them victory, he said.
PASTOR NOMTHI'S WORDS OF ENCOURAGEMENT @SUNDAY SERVICE
Pastor Nomthi at the March 5 Sunday service said that God's love towards His children is forever and it is a life-covered insurance policy. She said this as she encouraged the congregation from the promise of the week in Deuteronomy 7:9. "Everything you need is in Him. So you cannot lack anything if you have this God as your God and Father," she said.
She noted that it is a powerful thing for Christians to know that God loves them and that this He will never turn His back on them. This should make them rejoice in Him always, she stated. She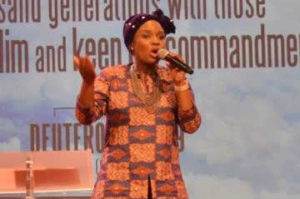 also said that their divine blessings will be passed on to their children and generations after them, hence they need to be taught the love of God for anyone who trusts Him, just like Abraham did to his children and those around him.